Youngest student pilot in Luxembourg
First solo flight shortly after his 14th birthday at the CLVV (Cercle Luxembourgeois de Vol à Voile) in Useldange.
https://www.rtl.lu/lifestyle/news/a/1527276.html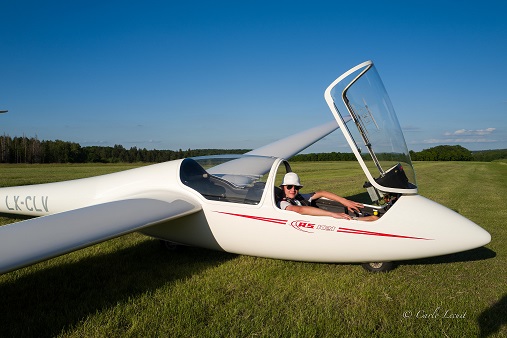 Jules Alexander Mathay was always interested in aviation. This being said his family has many ties to the aviation industry, in construction and in piloting.
Jules started flight training in 2019 on his 13th birthday at the CLVV in Useldange. Every weekend and bank holiday when the flight school was in operation Jules was present. He enthusiastically practiced winch-take-offs, aerodrome circuits and landings.
On the 17th May 2020 after completing two check flights with his instructor, he thereafter flew his first three solo flights!
The current EU-legislation, allows student pilots to fly solo on gliders at the age of 14. Jules is the youngest student pilot of Luxembourg and most likely the youngest in Europe. Jules is able to pilot a glider on his own with ground supervision of an instructor. Due to the COVID-19-restrictions Jules was unable to do his first solo flights on his 14th birthday.
The CLVV wishes Jules, their youngest member, many safe landings and this being his first step he takes in pursuing his long-term goal of becoming a commercial pilot. His grandfather Tom Welter (whom he never got to know) used to say "Prior to becoming a commercial pilot, you should be a glider pilot."
Like all teenagers, Jules goes to school. He is a VIe student of the international section at the Lycée Michel Lucius.
CLVV (Cercle Luxembourgeois de Vol à Voile) is the national gliding cub of luxembourg, member of the luxembourgish aeroclub (Fédération Aéronautique Luxembourgeoise).
We offer :
Glider Pplot training (gliders, powered gliders, touring moto-gliders)
A complete set of club-owned different gliders/powered gliders available to our members
Guest flights for passengers from the age of 8 to 80